Cytosurge FluidFM® BOT 單細胞注射暨分離系統
SINGLE CELL EXPERIMENTS REINVENTED.
FluidFM® BOT

A POWERFUL TOOL FOR SINGLE CELL BIOLOGY.
The FluidFM BOT is a revolutionary tool for biologists in particular in cell line, drug development or genetic editing at the single cell level.
With the FluidFM BOT system you can perform nanoinjection with a vast variety of materials of your choice selectively into either cytoplasms or nuclei of adherent cells. This is achieved in a cell-context preserving, non-destructive and measurable manner. Other potential applications of the FluidFM BOT are extraction and isolation. Together with FluidFM nanoinjection, these applications make the FluidFM BOT an unrivalled tool in many key research areas.

NANOINJECTION.
The FluidFM BOT is an unmatched tool to introduce a vast variety of materials of your choice into a cell.
From small molecules to proteins, RNAs, and plasmids, the FluidFM nanosyringe can be loaded with – and thus deliver – virtually any kind of liquid-based solution.
The efficiency of injection using the FluidFM BOT system has already been demonstrated in various kind of cell types such as human cervical cancer cells (HeLa), Human Embryonic Kidney cells (HEK), Chinese Hamster Ovary cells (CHO) or human induced Pluripotent Stem cells (hiPS).
THE SOLUTION FOR YOUR RESEARCH QUESTIONS.
Injected Volume Estimation
Working with fluorescent compounds, the microfabricated FluidFM nanosyringe serves as a precise reference for calculating the injected volume.

FluidFM Optimizes CRISPR-Cas Delivery
Perform fast injection of CRISPR-Cas complexes, especially into cells difficult to target with conventional CRISPR delivery methods.

FluidFM Enhances Plasmid Transfection
Transfection of plasmids with FluidFM nanoinjection enables the delivery of genetic material even into difficult to transfect cells and in a faster and, for the cells, less stressful manner than with conventional methods.




EXTRACTION & ISOLATION.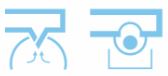 Amongst many applications, FluidFM extraction and FluidFM cell isolation will critically empower your single cell research. Together with FluidFM nanoinjection, these applications make the FluidFM BOT an unrivalled tool in many key research areas.

Extraction
Using the FluidFM nanosyringe, perform gentle biopsies on selected cells. The approach is similar to FluidFM nanoinjection but uses negative pressure to extract the cell content. Depending on your interest, target either the nucleus or the cytoplasm of the selected cells. The precise dimensions of the nanosyringe allow you to control the volume of the biopsy. The image above shows the extraction of 1110 fL from a GFP-Hela cell cytoplasm. The procedure is non-destructive and therefore makes it possible to perform cell biopsies from the same single cell over different time points.



Isolation
Adherent cells can easily be isolated using the FluidFM micropipette. Selectively shower the cell of interest with trypsin or any other dissociation reagent. Then, apply a gentle negative pressure to harvest the cell with the micropipette. You can then move to another well to isolate the cell by approaching the surface and applying a positive pressure through the microfluidic channel of the micropipette.

TOWARDS FULL AUTOMATION.
Simple preparation and extensive automation and data management combined with our user-friendly and intuitive ARYA software allows any user to inject more than a hundred cells per hour.
On the screen, simply point and click on the cytoplasm or nucleus of the cells you want to target, and press "OK". It is as straightforward as that.
The application-specific workflow within ARYA allows all users to be in full control of their experimental parameters and to optimize them depending of the type of cells that are to be manipulated.
Due to the fully programmable FluidFM nanosyringe exchange and washing features and automatic sample swapping, all experiments are executed in a clean and precise fashion, reducing contamination risks and human error to a minimum, while boosting productivity.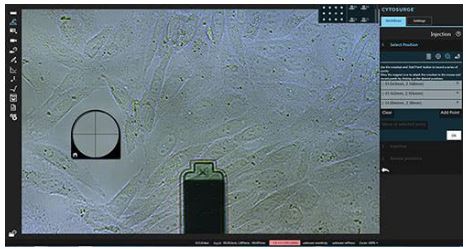 FluidFM BOT SYSTEM.
A high level of automation coupled with intuitive instrument operation have proven to be particularly important for single cell research.
The FluidFM BOT is a complete stand-alone system which includes all essential elements such as a motorized inverted microscope and an anti-vibration table with its own pressure pump assuring stable FluidFM experiments. The system also includes a made-to-measure incubator with a HEPA filter and UV light to minimize contamination.
With the FluidFM BOT comes also a set of FluidFM probes, including the FluidFM nanosyringe. A dedicated barcode reader gives convenient access to the relevant probe characteristics and quality control data. Finally, an optimized computer and a high definition monitor enable smooth operation of the ARYA software and all FluidFM BOT system components.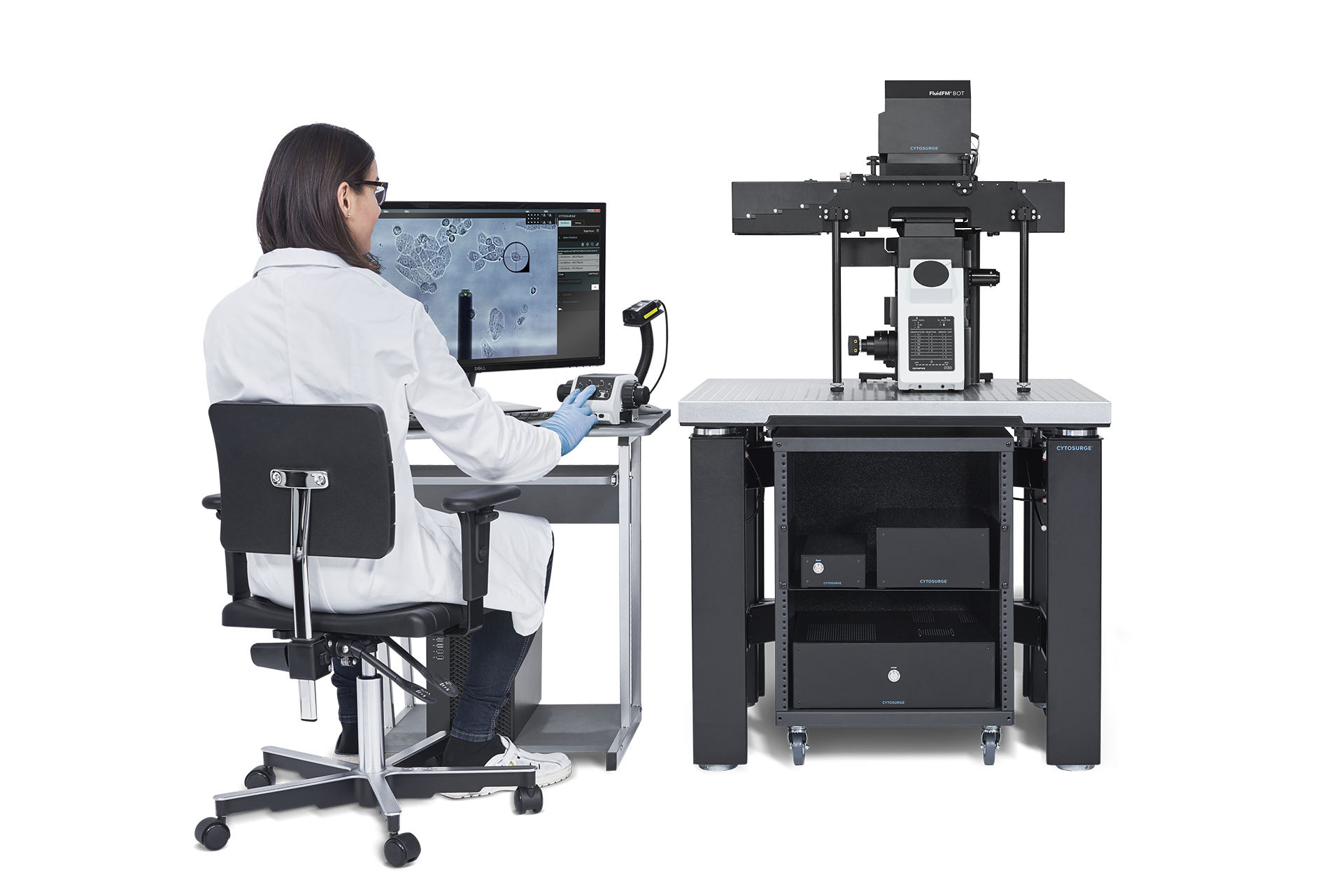 MORE INFORMATION